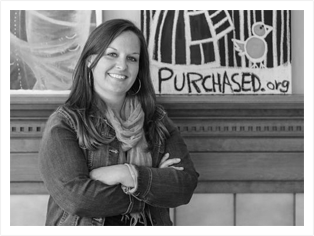 Purchased founder Jessica Evans was introduced to the reality of sex trafficking through survivors she met in Nepal in 2007. After returning home to Indiana, she was deeply moved and desired to take action. She prayed that God would show her how she could make a difference in the lives of those enslaved.
A short time later, the Lord gave her a vision to educate people and to raise awareness for human trafficking and the sex slave industry. She invited others to join her, and within a few months they organized a benefit concert, donating all the proceeds to Love 146.
The following year, they decided to push into their vision even more to see how awareness of these issues could be raised to a higher level. Along with another benefit concert, they included a two-part movie and discussion night, as well as a book study on Not For Sale by David Batstone. The event was called Purchased – inspired by Revelation 5:9.
While attending a Love 146 conference in 2010, they felt the Lord telling them to establish a more permanent movement here in Indianapolis. By 2011, Purchased began working on its 501(c)(3) status in order to become a non-profit organization.
After Indianapolis hosted the 2012 Superbowl, Purchased realized that not much was being done to fight sex traffic locally, so they narrowed their focus to Indiana. Since that time, they launched curricula that they take into schools and juvenile placements, as well as a mentorship program for girls who have been trafficked in Indiana.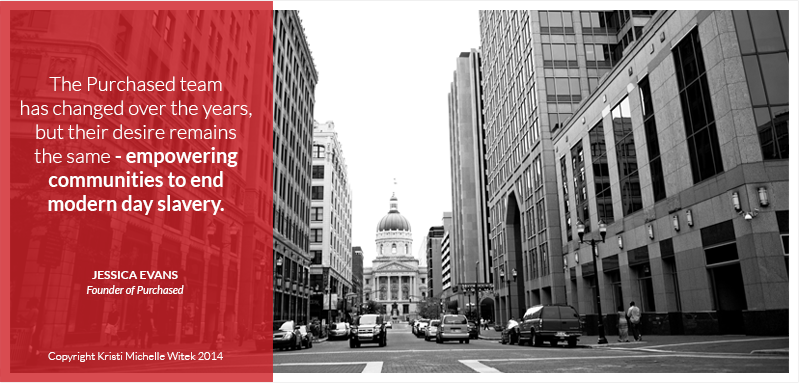 "And they sang a new song, saying: 'You are worthy to take the scroll and to open its seals, because you were slain, and with your blood you purchased for God persons from every tribe and language and people and nation…"
Revelation 5:9